ZFM Digital Mass Flowmeter
Design Features
Multi-gas/Multi-range functionality up to 8 bar (currently for 6 gases)
Full scale covered flow ranges from 3.125 sml/min to 10 sl/min are available in seven models
Standard accuracy ± (0.5% RD + 0.2% FS) based on actual calibration
Universal 14-24 Vdc power supply input
Supports up to 46 Engineering Units (including User-defined)
Stores additional user- calibration table data for up to 10 gases
Two programmable Totalizers indicate total gas quantity
User-programmable Pulse Output (via SSR)
High and low gas flow Alarm limits with preset delay interval
One user-programmable solid-state relays with latch option
User-selectable analog 0-5 Vdc, 0-10 Vdc, or 4-20mA outputs
Internal conversion factors for up to 26 gases
Digital interface (RS-232 or RS-485) test/configuration port, optional Modbus RTU with Isolated RS-485 transceiver)
Multi-Drop capability of up to 247 units (RS-485 option)
Automatic sensor zero offset adjustment (via digital interface or local push button)
Extensive Self- diagnostic with status LED or OLED (optional) indication
Local 128 x 64 high contrast OLED (optional) graphic display with joystick control
Free, easy-to-use configuration and calibration software (RS-232/RS-485)
Description
ZFM digital mass flow meter
The ZFM is an intelligent "state-of-the-art" digital Mass Flow Meter. It is offered in "small footprint" aluminum or stainless steel versions.
Running the free "ZFM Configuration Utility" software, the user can select different gas types and flow ranges on-site without disconnecting, within a few minutes.
These meters facilitate lower ownership costs, by employing fewer units for multiple applications and saving on cost of calibrations.
Flow Ranges for ZFM

ZFM Low Flow Mass Flow Meters
Code
Nominal Flow Range
sL/min [N2]
Reconfigurable Full Scale Flow
Ranges [Min – Max] sL/min [N2]
01
0.0125
0.003125 – 0.0125
03
0.05
0.0125 – 0.05
05
0.2
0.05 – 0.2
06
0.8
0.2 – 0.8
08
2.0
0.5 – 2.0
09
6.0
1.5 – 6.0
10
10.0
2.5 – 10.0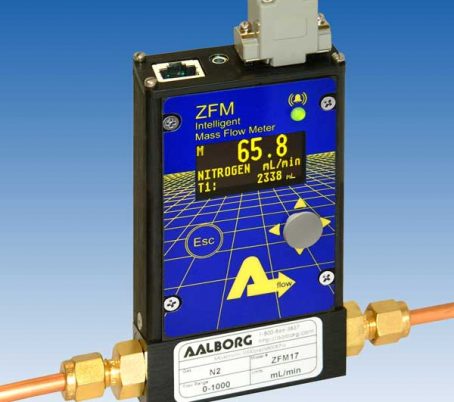 Downloads